The ThreeSixtyCam™ (http://www.threesixtycam.com) is a 360 degree camera platform designed to go on boats and vehicles (mobile platform) or be located in remote locations (portable stationary platform) such as construction or remote sites.
Depending upon the needs of the customer, Netarus can design a ThreeSixtyCam 360 degree camera system to be deployed virtually anywhere.  Quick and convenient all-around view for the supervisors, captain, driver or navigators.
ThreeSixtyCam Stationary Platform – Portable Solar or Wind Generated Tower
The ThreeSixtyCam stationary platform is a 360 degree camera system designed to give a panoramic view 360 degrees around the tower.  Players can be customized to integrate into Wowza, Akamai or custom media server.
ThreeSixtyCam Portable Stationary Platform –  Features
The ThreeSixtyCam 360 degree camera system stationary platform is design to be placed virtually anywhere.
Real-time broadcasting of 360 degree video for advertising, entertainment or security monitoring
Multiple people can interact with the broadcast at the same time
No moving parts and never miss a shot
Rugged modular truss system that can be stacked in 3ft / 1m sections to any height desired
Portable solar or wind generator
360 degree panoramic or 360 degree full view IP camera
Truss system to vary the height of the cameras
Wireless directional antenna or cellular modem to connect into high speed internet to stream feed
Enterprise level streaming for large audiences

Stream directly into Wowza (H.264)
Akamai (HNS) media streaming

Integration with Flash or HTML5 media players
ThreeSixtyCam Portable Stationary Platform –  Equipment
The following is a list of standard equipment that comes with the ThreeSixtyCam 360 degree camera system stationary platform.  Each platform is custom build to the requirements of the project.
Modular truss system for expandable height
Direct, solar or wind mind for power
Optional power source for AC or generator
Battery bank.
56VDC, 24VDC and 12VDC power
Power Over Ethernet Switch
Variable camera configurations:

Four 180 degree cameras for panoramic view
-or-
One 360 degree full surround camera video stream

Stitching media server
Weatherproof enclosure
Full customization and integration available
ThreeSixtyCam Portable Stationary Platform – Videos
The following are recorded videos from several different perspectives from the ThreeSixtyCam 360 degree camera system stationary platform.
ThreeSixtyCam Mobile Platforms – Vehicles and Vessels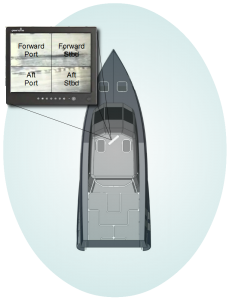 With a ThreeSixtyCam 360 degree mobile platform, some equipment can be equipped with four (4) ultra low-lux night vision cameras, quad 9" split screen display and an optional solid-state DVR for 360º for viewing in any fully daylight or night-time environment.  The ThreeSixtyCam platform provides immediate access to monitor any situation in real-time and recorded without the need to adjust the view with traditional pan-tilt-zoom (PTZ) platforms.  Each camera angle can be adjusted to provide a fully configurable 360 degree view.  The ThreeSixtyCam can optionally transmit the live video feed over any satellite, cellular or WiFi network for remote command and control (C4ISR) applications.
ThreeSixtyCam Mobile Platform – Features
Cost effective 360 degree view from a single display to provide complete situational awareness around the vessel
Ultra low-lux night vision camera with varifocal lens for ultimate clarity in low-light conditions
Quad split screen display for 360º view with daylight and night time settings
Optional DVR interface accessible interfaces via PC, iPhone, Android and Blackberry
One (1) year warranty

ThreeSixty Cam Mobile Platform – Equipment

Four (4) low-lux cameras with mounting harnesses
Day-light readable 9" display
Custom cable lengths to match the vessel
ThreeSixty Cam Mobile Platform – Optional Accessories
DVR with solid-state hard drive
Wireless or cellular modem for C4ISR operations
GPS map overlay
ThreeSixtyCam™ is a trademark of Netarus, LLC.  All rights reserved.